The Woodlands Air Conditioning Installation
Find expert air conditioning installation services in The Woodlands when you call 281-704-3696 today. We offer great prices and exceptional HVAC solutions. Just make the call and we will send one of our cooling specialists to your home to take a look and provide an estimate. Click here to save on your next service.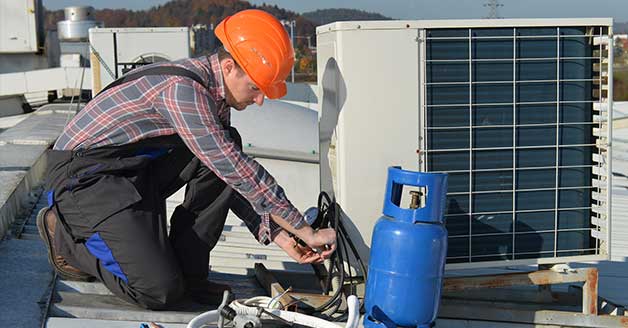 Every great air conditioning system stops working eventually, and when it does, having access to a high quality installation team for your new AC system is a must. It always seems to be hot here in Texas, but during the summer months when the temperatures are often triple digits, having an air conditioner you can trust is a necessity. If your AC is close to 15 years old, or is showing signs of wear and tear, a newer, more energy efficient model will make a world of difference – and it all starts with an expert installation.
Click here to find out what your neighbors throughout The Woodlands, TX have been saying about our AC installation and replacement services.
Professional AC Installation is the Way to Go
If your air conditioning system is older and you need a new one, or if you're having one installed for the first time, insist on using a reputable professional to get the job done right. Some homeowners like to try and save money by doing some or all of the installation themselves, but in the vast majority of cases you'll end up spending more in the long run.
Professional service providers have the experience, the equipment and the necessary licenses to get your system installed safely and to keep your warranty intact. They also know the ins and outs of local building codes and have troubleshooting skills in case something goes wrong. Remember, your new AC system should last for 15 years or more, so have it installed correctly.
The Complexity of Your AC System
There's a lot more going on in your AC system than a fan blowing cool air throughout the house. An air conditioning system controls the indoor climate, including temperature and humidity. There are fans and blowers at work, but before they can do their part, the warm air inside the house has to be removed and chilled.
There are evaporator coils, a condenser coil, wires, sensors, fans and a compressor that have to work in unison for an AC system to operate effectively. The warm air is drawn out of the house and chilled by refrigerant in the evaporator coil. The warm air is absorbed by the refrigerant and is sent to the condenser coil and out of the house, replaced with perfectly cooled air.
If you are having trouble with your air conditioning system or need a new one installed, call Affordable American Air Conditioning & Heating at 281-704-3696. We serve The Woodlands, TX and surrounding areas and can have you and your family cool and comfortable in no time.