Why Choose Us?
Enjoy no-hassle HVAC solutions when you call Affordable American Air Conditioning & Heating. We are local heating and cooling experts in The Woodlands providing quality results at upfront prices. Contact us today at 281-704-3696 to schedule a convenient appointment.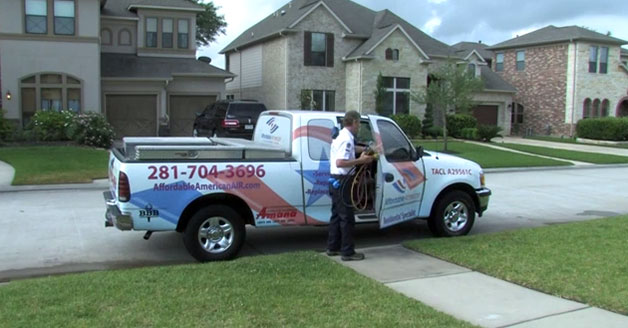 Choosing the right HVAC contractor should not have to be a guessing game. Affordable American follows a Whole Home Comfort philosophy that treats your home as one interconnected air management system. We make sure those parts work together efficiently so you enjoy greater indoor comfort for years to come.
At Affordable American, we are not content with just getting the job done. We want to build quality relationships with our customers. This means we are more than just an HVAC company. We are your go-to resource for total home comfort and peace of mind. But don't just take our word for it. Find out what your neighbors in The Woodlands, TX are saying about our services by reading their reviews here.
Fully Qualified Experts at Your Service
You wouldn't let just anyone enter your home to work on your heating or cooling system. That's why Affordable American maintains all of the professional credentials and affiliations you would expect from a team of experts.
We are an A+ rated company on the Better Business Bureau and are active members of the Air Conditioning Trade Association and Air Conditioning Contractors of America. This ensures that you receive quality service that upholds the highest professional standards.
Direct Access to Owner
When you contact us, you won't be put on hold or directed to an outsourced help line. You will talk directly to our team. Owner Chuck Blair takes a personal interest in making sure each and every customer receives the attention they deserve. Working with Affordable American means you will not only experience professional service, you will be made to feel like you are talking with a friend who is genuinely interested in your safety and comfort.
Honest, Upfront Service
Is the thought of hassling with a contractor preventing you from calling for professional help right now? When you choose Affordable American, you will find that we make things as easy as possible for you. This means there are never any hidden fees, nor do we push unnecessary upselling, gimmicks, or shoddy workmanship. We keep our process simple and straightforward.
What you can expect, instead, is upfront pricing, honest recommendations, and personalized service that takes your specific needs into consideration.
We make every effort to provide you with a pleasant experience and make the service process as smooth as possible. We won't leave a mess for you to clean up after our work is done, and we keep the entire process transparent so you won't be caught by surprise at the end. Everything is presented upfront and we make sure you know what to expect from start to finish.
Make Affordable American Air Conditioning & Heating your first choice for all of your HVAC needs. We are your local trusted advisors when it comes to the health and comfort of your home's air system. Call now at 281-704-3696 to discuss your needs and start enjoying the results you've been looking for.